Bulk Essential Oils for Candle Making
Bulk Essential Oils for Candle Making: Crafting Aromatic Bliss
Are you a passionate candle maker searching for the perfect essential oils to elevate your craft? Candle making is an exquisite art, where science and creativity blend harmoniously to produce captivating scents and soothing ambiance. As a candle maker, you understand the importance of using premium ingredients to craft candles that delight the senses, crafting unforgettable experiences for your valued customers.
At Scatters Oils USA, we take pride in being a trusted bulk essential oils supplier, exclusively curated for candle making. Our oils are sourced directly from renowned farms in South Africa, ensuring unparalleled purity and potency. Each drop of our essential oils carries the essence of excellence, reflecting our commitment to providing the finest ingredients for your craft. We understand the challenges you face in the world of bulk candle making, from quality concerns and inconsistent scents to long shipping delays and limited selection.
Our goal is to provide uncompromising quality, consistent results, fast and reliable shipping, and a diverse range of essential oils that ignite your imagination and allow you to create unforgettable moments with each candle you craft. Elevate your craft to new heights with our premium bulk essential oils for candle making and join the community of skilled candle makers who have already unlocked the secrets of making homemade candles from scratch.
Adding Pure Essential Oils to Your Candles Will Make a Noticable Difference
If you're wondering why essential oils are still being used today to make homemade candles, it is because they have been treasured for centuries, thanks to its therapeutic properties and sweet scent.
When essential oils are used in candle making, they infuse the air with pleasing aromas and provide the added benefits of aromatherapy. Unlike synthetic fragrances, essential oils come from natural plant extracts, providing an organic, personal touch in candle making.
Each type of oil has its own unique properties, such as lavender essential oil, which helps you relax and citrus, which invigorates and energizes. These oils help you customize your homemade candles depending on your taste, style, and preference.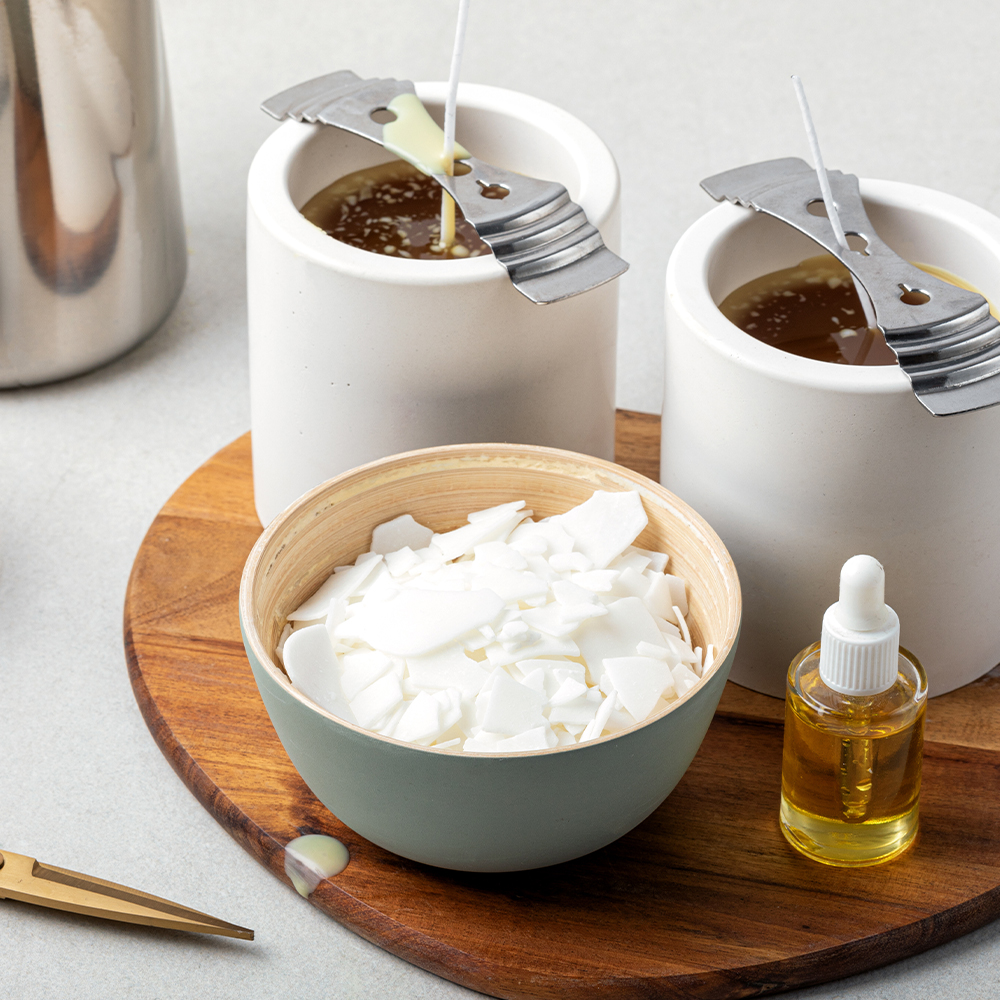 Top Eight Blends We Recommend
Oils: Lavender, Chamomile, Vanilla
Benefits: This calming fusion is designed to relieve stress and promote relaxation. Lavender's tranquility meets chamomile's soothing qualities, complemented by the comforting embrace of vanilla.
Oils: Lemon, Grapefruit, Bergamot, Spearmint
Benefits: Revitalize your spirit with this invigorating blend. The tangy trio of citrus oils energizes, while spearmint adds a refreshing touch, perfect for kick-starting your day.
Oils: Cinnamon, Clove, Orange
Benefits: Cozy up with this warming blend. Cinnamon and clove evoke the sensations of a comforting embrace, while sweet orange brings a touch of joy.
Oils: Cedarwood, Pine, Eucalyptus, Rosemary
Benefits: Journey through a forest retreat with this earthy concoction. Cedarwood and pine ground you, while eucalyptus and rosemary refresh and invigorate the senses.
Oils: Geranium, Rose, Ylang-Ylang, Sweet Orange
Benefits: Float on a gentle breeze with this floral delight. The harmonious union of rose, geranium, and ylang-ylang creates a romantic atmosphere, elevated by a hint of cheerful orange.
Oils: Peppermint, Spearmint, Eucalyptus
Benefits: Awaken and refresh with this crisp medley. Peppermint's invigorating presence mingles with the gentler touch of spearmint, enhanced by eucalyptus's clarifying properties.
With these blends, the aim is to enhance ambiance, mood, and overall well-being. Ensure that you provide sufficient information if selling or gifting these candles, so users can be aware of any potential allergens or sensitivities.
The Importance of Sourcing Pure, High-Quality Oil for Candles
When it comes to creating candles that truly stand out, the choice of essential oils can make all the difference. At Scatters Oils USA, we firmly believe in the power of pure, high-quality essential oils, and we're here to share why they are superior to synthetic scents for your candle-making endeavors.
Authenticity in Aromas
Pure essential oils extracted from plants carry the authentic essence of nature's bounty. Their complex and nuanced aromas add depth and character to your candles, creating a truly immersive experience for anyone who comes across them. Unlike synthetic scents, which often lack the intricacies of nature, our high-quality oils resonate with genuine fragrances that evoke emotions and memories.
Therapeutic Benefits
Incorporating pure essential oils into your candles not only enhances the ambiance but also brings the potential for therapeutic benefits. Natural oils, when used in aromatherapy, can promote relaxation, stress relief, and overall well-being. Your customers will appreciate the added value of a candle that not only smells wonderful but also contributes to their sense of calm and rejuvenation.
Environmental Consciousness
By choosing pure essential oils, you support sustainable practices and eco-friendly sourcing. Synthetic scents often rely on chemicals and additives that can be harmful to the environment. On the other hand, our oils are carefully sourced from reputable farms, ensuring a positive impact on the planet and a responsible choice for your candle-making business.
Long-Lasting Fragrance
One of the key advantages of pure essential oils is their longevity. When used in candles, these oils release a consistent and long-lasting fragrance that remains true to its original form. In contrast, synthetic scents may fade quickly and lack the depth and staying power that natural oils offer.
Uncompromised Quality
Our commitment to sourcing high-quality essential oils means that you can rely on consistent excellence in every batch of candles you create. The assurance of purity and potency in our oils allows you to produce candles that exceed customer expectations and foster brand loyalty.
At Scatters Oils USA, we understand the significance of sourcing pure, high-quality oil for candles, and we take pride in offering a curated selection of premium essential oils that will elevate your candle-making craft. Embrace the authenticity, benefits, and positive impact of our oils and embark on a scented journey that captivates hearts and leaves a lasting impression on all who encounter your candles.of pure, high-quality essential oils, and we're here to share why they are superior to synthetic scents for your candle-making endeavors.
Ready to Try Scatters Oils USA in Your Candles?
Get ready to enhance your candle making experience with Scatters Oil USA. Start upgrading your creations and release the full potential of your candles with our essential oils. It's time to elevate your craftsmanship ability and infuse your homemade candles with enchanting fragrances. Beginner or experienced, it doesn't matter! Our wholesale essential oils will be the perfect partner in making homemade candles. Call us today at (904) 619-1050 to get started on your aromatic adventure.
Our team at Scatters Oil USA is dedicated to providing you with the best customer service and quality materials that can elevate your candle making experience. You can also send an email to team@scattersoilusa.com if you have any requests, concerns, or questions regarding our USDA certified organic essential oils.
Order our bulk essential oils for candle making now, and let's transform your candle making experience from lighting a dark space to filling the entire room with the enchanting essence of nature.
Interested in Larger, Custom Orders at a Lower Prices?